In most cases we can guarantee delivery within 3-4 working days on the UK mainland!

Terms and conditions which cover telephone orders

Environmental
All our battery packs and products are made in purpose built facility in Great Britain.
Under the Waste Batteries and Accumulators Regulations 2009, CAB Special Batteries Ltd are a 'Producer' of 'Industrial' batteries and as such, are obliged to...
More information on our environmental policies
CAB SPECIAL BATTERIES is proud to announce that they have been appointed as the GP Batteries uk and European "SUPER VALUE ADDED RE-SELLER"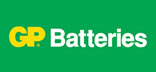 Where safety is involved there should be no compromise. Cells used for this important application should be of the highest quality and performance.
Please phone +44 (0)1752 696000 to discuss the best options available to you. 8am to 5pm Monday to Thursday and 8am to 4pm on Friday's