PROMOTIONS
---
CAB can now offer you a wide range of battery chargers.
CHARGERS BY ANSMANN
Rechargeable batteries can not only be charged very quickly and safely. ANSMANN produce smart chargers for NICD,NIMH, Lead Acid and Lithium Ion batteries.
Ansmann universal power supplies can be used on a variety of devices as an economic power source. All power supplies are voltage-stabilized and short circuit proof, available in different power ratings.
POWER BANK BY GP BATTERIES
GP have developed the "Powerbank" It is ideal for the busy person on the move who needs a reliable way of charging their mobile devices. Phones,Tablets and many more applications can have their battery life extended by over twice the normal running time.
Powered by advanced Lithium technology, GL343 is capable of charging high energy demanding products like gaming devices, MP3 players, smartphones etc. By using a 4-stage LED indicator system, you can always check the power status and it is compact enough to carry everywhere.
* Suitable for: iPhone, Android phones and most USB enabled devices like digital cameras, camcorders, MP3 players, smartphones.
* Rechargeable lithium-polymer battery
* User profile: Intensive user of mobile devices on-the-go
* Convenience: compact, lightweight and attractive design
* Charge on-the-go: by connecting the power pack to the USB-device
* Specialties: LED battery indicator, USB/Micro USB cable, safe charging
Contact 01752 696000 to discuss your needs.
In most cases we can guarantee delivery within 3-4 working days on the UK mainland!

Terms and conditions which cover telephone orders

Environmental
All our battery packs and products are made in purpose built facility in Great Britain.
Under the Waste Batteries and Accumulators Regulations 2009, CAB Special Batteries Ltd are a 'Producer' of 'Industrial' batteries and as such, are obliged to...
More information on our environmental policies
CAB SPECIAL BATTERIES is proud to announce that they have been appointed as the GP Batteries uk and European "SUPER VALUE ADDED RE-SELLER"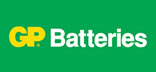 Where safety is involved there should be no compromise. Cells used for this important application should be of the highest quality and performance.
Please phone +44 (0)1752 696000 to discuss the best options available to you. 8am to 5pm Monday to Thursday and 8am to 4pm on Friday's